Please don't forget that members can take part in Ramblers' led walks anywhere in Britain!
GRWalks (all Gloucestershire Ramblers' Group Walks) Details now available on the Ramblers main website.
(Alternatively type http://tinyurl.com/GRWalks)
For news see www.gloucestershireramblers.org.uk for more Gloucestershire Area News.
GLOUCESTERSHIRE AREA MID-WEEK WALKS Usually all day walks from anywhere in Gloucestershire on Wednesdays every week. Walks Programme
CIRENCESTER GROUP (the town and surrounding area) walks. Walks Programme
FOREST OF DEAN GROUP walks. Walks Programme
SOUTH COTSWOLD GROUP (Stroud, Dursley, Tetbury area) walks, (that's us!). Walks Programme
GLOUCESTER GROUP (the city and surrounding area) walks. Walks Programme
CLEEVE GROUP (near Cheltenham and including Tewkesbury) walks. Walks Programme
NORTH COTSWOLD GROUP (from Northleach north to Chipping Campden) walks. Walks Programme
GLOUCESTERSHIRE WALKING GROUP (GWG) Walks for those in their 20's, 30's or 40's who live anywhere in the County, plus social activities and weekends away. Walks Programme
NB You are advised to ring the walk leader at a reasonable hour before attending a walk.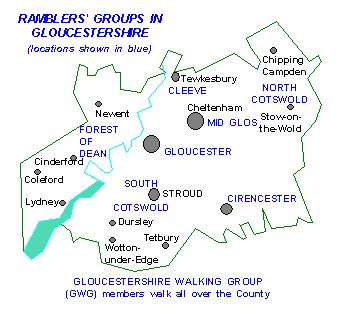 OTHER WALKS

STROUD RAMBLING CLUB
COTSWOLD VOLUNTARY WARDENS GUIDED WALKS
STROLLING IN STROUD short health walks
WINCHCOMBE WELCOMES WALKERS Guided and self guided walks in the North Cotswolds
MORE RAMBLING CLUBS IN GLOUCESTERSHIRE
BED & BREAKFAST ACCOMMODATION IN THE AREA - OR ANYWHERE IN FACT Find by place name or grid reference
TOURIST INFORMATION CENTRES in Gloucestershire may have more information if you give them a call