Come and walk with us this holiday time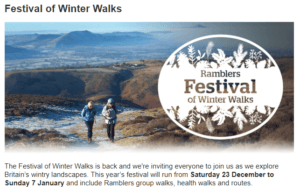 We invite you to try walking with us, the South Cotswold Ramblers, this holiday time during Ramblers Festival of Winter Walks.
Sat 6 Jan Into the Woods! Moderate 7m Start 10:00 Est finish 14:00 Haresfield Beacon, Standish Woods to Randwick. Terrain 3 Quite Hilly. Mixed terrain with some open fields and some dense woodland. Bring a snack. Leaders - Tim S and Ann T 01242 530734 or 07931 683162 Meet 09:50 Shortwood NT CP (Cripplegate) ½ mile before Haresfield Beacon. Note that a CP charge has recently been introduced for non-members. (GL6 6PP) L162/E179 SO831086 Maps http://tinyurl.com/y9bq82f8
If you cannot make this last Festival walk, we welcome you on ANY of our walks throughout the year. Come and give us a go when it suits you.